The Three Stooges
The Three Stooges are enjoying renewed interest in their work thanks to the Farrelly Brothers' new Three Stooges movie currently in theaters. I haven't seen the Three Stooges movie yet but I've been seeing very good reviews about the great job done by the actors portraying the Three Stooges: Chris Diamantopoulos as Moe, Sean Hayes as Larry, and Will Sasso as Curly.
While a lot of younger movie fans are being exposed to the Three Stooges for the first time, I also learned something new this week about one of the first film appearances by them back in 1933.
As readers of this blog might recall, in 1933 Thorne Smith was working in Hollywood at MGM Films. While I'm not certain what his exact job title or instructions were from MGM, we do know he wrote the script for the 1933 film short "Menu", which was nominated for an Oscar Award in 1934 in the category of Best Short Subject, Novelty.
We also know that I gave praise to author Anthony Slide for the research he did on Thorne Smith related films in his book "A Man Named Smith: The Novels and Screen Legacy of Thorne Smith."
While re-reading that book this week, I made a connection that somehow was overlooked by Mr. Slide and by myself the first time I read his book.
One of the story treatments Thorne Smith created while at MGM was called "What a Liar" and was to feature Jack Pearl, Jimmy Durante, Polly Moran, and W.C. Fields. As is typical of Hollywood scripts, many changes were made, among which was dropping W.C. Fields from the project and bringing in screenwriter Herman J. Mankiewicz (who would later write the screenplay for "Citizen Kane").  Polly Moran was replaced by Zasu Pitts, and in addition to Edna May Oliver, another group of new stars was added to the film. Those stars were billed at the time as "Ted Healy and His Stooges."  Eventually the project was renamed "Meet the Baron" and released in October 1933.
So, call it coincidence or luck but it's somehow fitting that as the new The Three Stooges movie is playing in theaters, I discover that Thorne Smith helped create one of the first movies The Three Stooges ever appeared in. Granted, Thorne did not get on screen credit for his part in the project but it's still a fun tidbit of information that has not been widely known all these years.
Below is a photo of Ted Healy and His Stooges from the movie "Meet the Baron"
And here is the "Meet the Baron" movie trailer: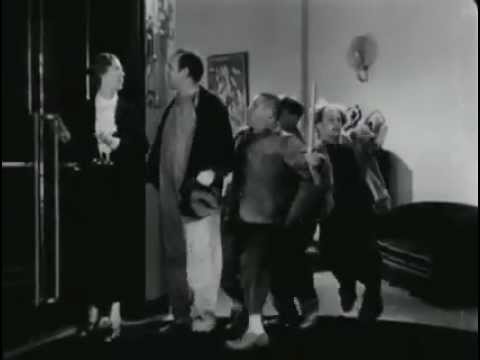 Fortunately, "Meet the Baron" is available on DVD so you can easily order it!
{ 10 comments }