Blotto
Yes, you read that correctly.
Today I am going to reveal to you the mysterious fun of Blotto.  No, I am not referring to the unofficial non-Olympic sport of inebriation. I am referring to the Blotto band from Albany, New York who got their name from the 1931 Thorne Smith novel  "Night Life of the Gods".
Blotto made a name for themselves playing a variety of rock songs with clever funny lyrics.  They often spoofed whatever trend was popular, be it spy movies ("Goodbye, Mr Bond") or heavy metal music in their song "Metal Head", complete with blazing guitar riffs from Blue Oyster Cult lead guitarist Buck Dharma.  They achieved their greatest success in the 80's and earned the distinction of being one of the first bands to ever have their video played on MTV.  If I'm not mistaken their video was the 34th video played on day one when MTV made it's world premiere.
Here's their video "Metal Head" for your enjoyment. Pay particular attention to the lyrics.  I get a chuckle out of "I wanna customize my van and I don't even own one"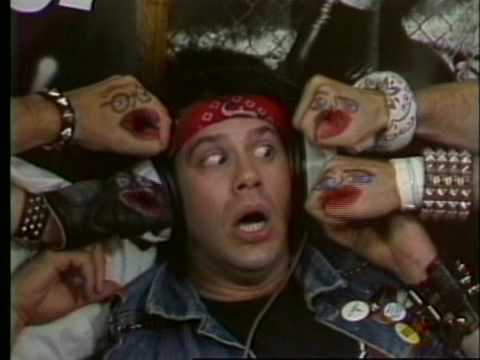 So, now that you've experienced just a touch of Blotto, you may be wondering exactly how they got the name from Thorne Smith's "Night Life of the Gods" novel.
Well, according to an article by Tom Keyser that was published just this week in the Albany Times-Union, guitarist Broadway Blotto was in the middle of reading the second chapter of "Night Life of the Gods".  The chapter is titled "Blotto's Tail Astounds", which is referring to what happens to Hunter Hawk's dog, Blotto, after an explosion in Hawk's laboratory produces some unusual results.  I prefer to say no more lest I spoil the novel for you.
But according to the article, the band did not have a name yet and the owner of the club they were going to play in was rightfully adamant that the guys come up with a name right then. So, Broadway Blotto looked down at his copy of "Night Life of the Gods" and offered up Blotto. The name stuck and the guys each came up with a stage name; Broadway Blotto, Bowtie Blotto, Cheese Blotto, Sergeant Blotto, and F. Lee Harvey Blotto.  You gotta love that!
You can read the rest of the entertaining article on how Blotto and several other bands came up with their names by going here:
http://www.timesunion.com/entertainment/article/Every-band-name-tells-a-story-3495397.php#photo-2837044

I'm hoping to get in touch with the members of Blotto and see if we can do an interview with them.
I'd love to find out if Broadway Blotto is the only Thorne Smith fan in the group.